Posted By Alice C. Linsley, Monday, March 24, 2014

Rhoda Hawkins, a theoretical physicist from the University of Sheffield, recently spoke on 'Should we mind, and does it matter?' at the Christians in Science student conference. Here, she asks how much Christians should be involved in discussing questions of science and faith.
Why should we engage our minds in science and religion issues? Why should we engage with the big questions of mind and matter? Firstly Christians who are scientists are whole, integrated people – body, mind and spirit – so to be true to ourselves and to God we should hold together the different aspects of who we are. Engaging our minds in such deep issues is both fascinating and enriching.
In my experience, questioning and doubting strengthens my faith. Contemplating the mysteries of creation increases my wonder and worship of the Creator. A greater awareness of the philosophical foundations of science, its limitations and its possibilities is important, and grappling with its ethical consequences is our responsibility.
In my research I study living matter. I want to understand how it behaves and moves. What are its material properties, how does it self-assemble and what makes it alive? Sometimes studying a bacterium, a eukaryotic cell, or even a single protein molecule, it can seem as if it has a mind of its own. There's an intriguing mystery here. How does it work?
Striving to describe, explain and understand this complex behaviour that emerges from the properties of matter is exciting. When understanding is achieved, I am amazed. Far from taking away the mystery, this process of enquiry opens our minds to glimpse something of the mind of God.
At the level of the brain, how the material properties of neurones can lead to emergence of behaviours as complex as our own minds is an exciting scientific question that merges with philosophy. Is there more to the conscious mind than just matter?
A merging of science and philosophy also happens in quantum mechanics. Is the world really indeterminate at the smallest scales? Are there hidden variables that control subatomic particles, communicating instantaneously across non-local distances?
Are there many universes? Is there life on other planets? What is the origin of life? How did life first emerge & evolve? Scientific research may find partial answers to some of these big questions within our lifetimes but I expect many mysteries will remain.
The Bible talks of us as matter, mind and spirit, and says that we should use all these aspects of ourselves to worship our creator God in spirit and truth. For me such holistic worship includes using my mind to seek truth by investigating created matter using science as well as searching for spiritual truth about God.
Love the Lord your God with all your heart and with all your soul and with all your strength and with all your mind

Luke 10:27
More by Rhoda Hawkins: Wondering; Questioning.



Permalink | Comments (0)


Posted By Alice C. Linsley, Saturday, March 08, 2014

The CWIS Board has been discussing this recently. What follows is part of that conversation, initiated by CWIS President Lynn Billman. The Board would like to hear from CWIS members on this topic and soon will open a Q&A Forum at the CWIS website for members to respond and make suggestions.

Lynn Billman

Ever feel like God is trying to tell you something? I've had two entirely separate instances come to my attention this week (actually in the same evening!) that are making me review our CWIS mission. I don't want to knee-jerk a change, but I need some Christian counsel. And for this, you are it!

The part of our mission that I'm stumbling over is: "To encourage Christian women of all ages to pursue, sustain, and grow in a career in science, technology, engineering or math…" As I've looked at statistics of men vs. women in STEM careers and leadership positions, my passion has been to "right a wrong." I still have this passion.

But, what if the "wrong" is not a wrong, but a sincere desire to put passion for family before passion for science/STEM? What is CWIS to Christian women who thoughtfully choose NOT to pursue such a career (or abort or time-out) after their education? This is coming up now as I talk to more women about CWIS, within and outside of ASA. I tell them the CWIS mission, and they look blankly at me, like, "yes, I got a PhD in electrical engineering or a BS in psychology but I'm not interested in a career like that, because it takes me away from my husband and family." Is it our place to try to talk them out of that? What is our response? Two options that come to my mind:

1. Is CWIS simply not for them? – i.e., the response is, go forth and have your family, and come back to CWIS if you decide you want to start/restart your STEM career and then we'll try to help and inspire you.

2. Or, should CWIS have a broader mission? – i.e., to provide encouragement to pursue their interest in science/STEM in non-career ways – ways to inspire their own children, ways to help out at their children's schools or camps with science, ways to educate their congregations about science/STEM issues and topics, ways to be involved in science-related policies in their area or nationally, ways to otherwise stay involved with science, etc.

We can certainly open this up as a blog or forum (Q&A) item, but as the CWIS Board, I'd appreciate your reactions first and foremost. Thanks!

Cheryl Touryan

My first reaction is to say "Amen" to your point #2, Lynn.

As per our discussion, the experience in our family is probably typical regarding women, STEM, and the Christian faith. Of my 6 'children' (includes spouses), 3 have PhD's in science (neuroscience, cognitive psychology, and bio-engineering). One son-in-law has several Masters in Environmental Engineering and Geotech, etc. So we are pretty well embedded in the hard sciences.

The women (I'm including my niece also, a medical doctor), are all married to very capable, high-level professional men, Christians, very supportive of their wives whatever they choose. But when a decision is made to have children in a marriage, it calls for a serious decision regarding career, marriage and one's faith. In our case, the three women decided to be the one to forego a fast-track career and stay home with children, at least for a while. If there are circumstances that can make the decision easier (like nearby grandparents willing to watch kids, being able to afford an nanny, husband wanting to stay home, etc) that would help, but apart from these, my experience shows that it will be extremely hard for a woman to pursue a demanding career in the sciences, while also maintaining a healthy marriage and serving as a mother to her children. It would be good to talk to someone who has done this successfully.

So if a Christian woman in science decides to step off the career track, she feels like a 'failure' because it seems she has wasted her education. On top of that, if she is involved in the average American evangelical church, she has a part of her that she cannot share with her friends or fellow believers. In many churches there is either a fear of science, or even worse, a denigration of the work of scientists. This results in tremendous ignorance, prejudice and closed-mindedness.

So this Christian woman trained in science is 'lost' in the chasm between the church and the scientific world. It is a lonely place to be.

Finally, given all the hype about the need for people in STEM, I have yet to see where there are many 'real' jobs, jobs that pay a decent wage, that don't consume 60 hours per week, etc. Maybe at a lower level, like a technician, or basic IT engineering, there are plenty, but where are they at the higher levels, with cutbacks of government funding, university education being in a transition mode, etc. Finally, there is the challenge of competing with job applicants who are willing to work 60-70 hour weeks, because career is first and foremost in their list of priorities.

There is a lot CWIS could offer - first of all, acceptance of the situation and of the women who choose other priorities. They could be encouraged to use their scientific knowledge to impact the church, the next generation, their communities, as policy makers, and many other ways. They could also be given a realistic view of careers in science and the options of getting back into science once the 'kids are raised.'

I do think this would be a good subject for discussion.

Thanks for bringing it up. BTW, I love the mission statement - "A Place to Connect!" That says it all.

Kristen Tolson

Excellent points, and I know in my own life my husband and I have had to make choices that weren't always the best for our careers because that's what worked for us as a couple (we try to take turns).

At least for me personally, I would love it if CWIS were involved in advocating for more family-friendly science practices. While there are certainly times that long hours in the lab etc. are unavoidable, I think a lot of it is a culture thing, which can be changed. Certainly we should be supportive of women who have felt they had to leave science careers for their families, but I also feel like we shouldn't have to choose. Especially considering that most men do not have the same pressure to choose between science careers and family, it should be possible to make it that way for women too.

Gayle Ermer

I would second Kristen's points. I think there are many ways to pursue a STEM career without committing to 60+ hours a week. For example, my appointment at Calvin is reduced load (~70% of a "normal" faculty workload) which has made it possible for me to balance work and family. I also have married colleagues who share a full-time position (so both mom and dad get to work and spend time with the kids in equal measure). But, the availability of more family-friendly STEM jobs depends on more employers being willing to offer them. I see the perception that women have to choose between a STEM career and a family as one of the main barriers for young women in choosing technical studies.

I interpret STEM careers as much broader than just full time PhD research or academic work. In my mind, nurses, elementary school science teachers, and chem lab technicians also count as STEM careers. And for most women, the early-childhood years are only a fraction of their working lives. So, maybe our organization doesn't have much to offer in support of the STEM graduate who is currently at home with the kids, but those same moms may eventually be back in professional STEM work (whether they want to connect with a group like CWIS in the meantime would be a personal choice, depending on how they identify themselves in relation to STEM and professional work). In terms of righting wrongs, I see it as a very important justice issue that women have access to well-paying careers in fields like engineering, especially in a society where many women are not in a position to rely on a spouse with a well-paying career to financially support them or their family.

END



Tags: CWIS Board STEM

Permalink | Comments (0)


Posted By Alice C. Linsley, Sunday, March 02, 2014

The Well
recently posted this article on the value and importance of mentors. Kelly Aukema, Dorothy Boorse and Kay Fritsch share their experiences with mentoring and talk about how advisees can benefit from the relationship.
Dear Mentor:
I am in a master's program in the sciences and planning to go on for a PhD. I hear having a good advisor can really make or break grad school. How do I go about finding a good advisor? What questions should I be asking a potential advisor or his or her current students? And how do I make the best use of that advisor/advisee relationship? Thank you!



Two of The Well mentors from the sciences replied along with two guest mentors who recently graduated from PhD programs in the sciences. Here are highlights from their responses.

Read it all here.



Tags: mentors/Intervarsity

Permalink | Comments (0)


Posted By Alice C. Linsley, Thursday, February 27, 2014

Lynn Billman is the President of Christian Women in Science. She recently wrote an fine article that appeared at Huff Post/Religion about Christian women in STEM. We hope that this will be the first of many! Here are the opening paragraphs:
Christian Women in STEM are a Vulnerable Minority
Lynn Billman
As the President of
Christian Women in Science
(CWIS, part of the
American Scientific Affiliation
), I hear many stories about the struggles of women of this faith who are interested or work in science, technology, engineering and math. Some stories are encouraging, but others are enough to break my heart.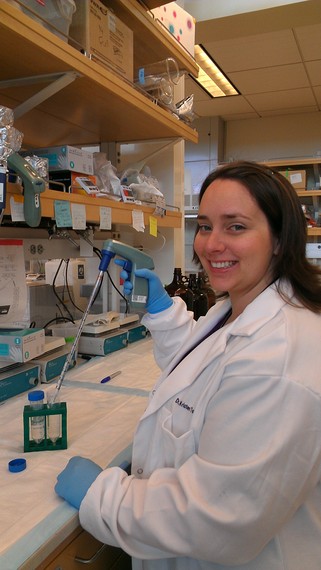 Rochelle was a high school biology student who was excited about the advances in genetics that her teacher shared with her in school. She dreamed of making a difference in the world by doing medical research. However, when her church youth leader told her that there were too many gaps in the fossil record to believe evolution and that only atheists believed in evolution, Rochelle's sense of direction began to waver. If she became a medical researcher, would she have to give up her Christian friends?

Liz had enjoyed her 10 years as a geology professor at a mid-sized state college. She rarely talked about being a Christian, but recently the subject came up when she told her department head about spending her weekend serving supper at the local Christian mission, and telling people about the love of Jesus. A couple months later her application for tenure was turned down. She never got a clear explanation of why she was rejected. As Liz found, being a Christian and a scientist in a secular institution can feel like being a "lesbian still in the closet."

Read the whole article

here.


Tags: Lynn Billman STEM

Permalink | Comments (3)


Posted By Alice C. Linsley, Monday, February 24, 2014

According to the
National Science Board's annual "Science and Engineering Indicators" report, made public Thursday, Feb. 6, 2014,
'there has been some general movement toward more diversity,' participation still 'varies substantially across groups,' the report found.
Phil Strawser, left, and Gwen Johnson from team NASA work the controls of a robot during a competition in Florida in December 2013. Women made up just 28 percent of science and engineering workers in 2010, according to the National Science Board's annual "Science and Engineering Indicators" report.

By Alan Neuhauser

America's science and engineering sectors have made strides toward building a more diverse labor force, but progress remains to be made, the National Science Board's annual "Science and Engineering Indicators" report found.

"There has been some general movement toward more diversity of participation in S&E [science and engineering] occupations," the report, released Thursday, said. It also noted, however, that "despite this increase, participation varies substantially across groups."

Read it all here.

This post has not been tagged.

Permalink | Comments (0)


Posted By Alice C. Linsley, Saturday, February 22, 2014
Updated: Friday, February 21, 2014

Bias against women in science reared its ugly head last week when the preeminent conference for theoretical chemistry posted a list of two dozen confirmed speakers without including a single woman.

A group of female scientists promptly called for a boycott, but faced backlash from a prominent chemist who dismissed their efforts as "nonsensical" and "trendy whining about supposed 'gender inequality.'"

More on that in a bit, but first some background. The International Congress of Quantum Chemistry is held by the International Academy of Quantum Molecular Sciences and scheduled for June in Beijing next year. When the conference revealed its initial speaker list (since taken down from the website), every one was male.

"It happened again — another major theoretical chemistry conference features an all-male program," reads the boycott petition, which was written by theoretical chemists Anna Krylov, Emily A. Carter and Laura Gagliardi and received 835 signatures within a few days.

Read it all here.




An apology came from the President of The International Congress of Quantum Chemistry. Apologies should be followed by actions to correct wrongs. Let's hope that happens.




Permalink | Comments (3)


Posted By Alice C. Linsley, Thursday, February 20, 2014

Lynn Billman, President CWIS

Some CWIS members and readers of this blog may not be aware that ASA has a strong partnership with AAAS, the American Association for the Advancement of Science. Jennifer Wiseman, Hubble Space Telescope Senior Project Scientist at the NASA Goddard Space Flight Center -- and ASA member -- is the ASA liaison to the AAAS through a project called AAAS Dialogue on Science, Ethics and Religion project (DoSER). AAAS held a major conference the weekend of Feb 14, and ASA combined with other science/faith organizations (like BioLogos and Zygon) to offer an ecumenical booth with literature about science and Christianity.

Even more interesting, Jennifer reported at this conference on the preliminary findings from a new survey conducted very recently by this project with staff at Rice University. This survey engaged 10,000 people with a 25-minute questionnaire, and individual interviews of 300 Christians, Jews, and Muslims. "This survey is different because it's asking where people look to for authoritative information on science, who do they trust as their authority figures, and how important do they think scientific issues are in their daily life," Wiseman said. The survey particularly focused on evangelicals, and Galen Carey, vice president for government relations at the National Association of Evangelicals in Washington, D.C., said that he was pleased with the survey's findings.

The survey results indicate that among the general population, only 27% believe that science and religion are in conflict with each other. In another interesting question, more than a third of all respondents in the survey agreed that "scientists should be open to considering miracles in their theories or explanations." Among the evangelicals surveyed (up to 30% of the U.S. population by some estimates), 48% of the evangelicals surveyed said they felt that science and religion were in a collaborative relationship. But, evangelicals were more than twice as likely as the rest of the sample to say they would turn to a religious leader or text if they have a question about science. And, 43% of evangelicals supported a strong young-earth creationist view.

Check this out, and other recent surveys about American's opinions of science. Read the fascinating report "

Religious and Scientific Communities May Be Less Combative Than Commonly Portrayed."




Tags: American Association for the Advancement of Scienc faith evolution survey

Permalink | Comments (1)


Posted By Alice C. Linsley, Monday, February 17, 2014

Dr. Dorothy Boorse is a Christian woman in science (Gordon College) with a heart for mentoring. In this video she discusses how God has been leading her path from pre-med student to wetland ecologist, the dynamic interplay between faith and science, and the freedom afforded by the Christian liberal arts environment within the Gordon community. Her ability to provide this kind of wise insight to students as they grow in faith and academic understanding makes Dr. Boorse a memorable mentor at Gordon College.




Tags: Dorothy Boorse ecology

Permalink | Comments (0)


Posted By Alice C. Linsley, Wednesday, February 12, 2014

It sounds pretty basic. A lovely young couple wants children, and they want those children to prosper and grow. They want to do as much as they reasonably can to ensure that those children have good, full lives. Happy lives. Lives that are as free from suffering and pain as possible. The problem is that they run the risk of bearing children with a gene that will probably cause a slow and painful death, albeit a death many decades in the future.
What should they do? Never have children? Adopt? Take the risk and conceive, come what may? Take the risk, conceive, and then terminate the pregnancy if the gene is present? Or try preimplantation genetic diagnosis, which involves creating embryos and testing them for the problematic gene and only implanting embryos free of the gene?
In the case of the Kolinsky family, as Gina Kolata reports for the New York Times, they chose preimplantation genetic diagnosis (PGD) in order to be certain that none of their children inherited their mother's rare, painful, fatal neurological disease. As Kolata reports, the use of genetic testing and PGD is on the rise, and so the ethical questions associated with these tests are all the more relevant to all of us. As she writes:
Ethicists are divided about use of the method.

Janet Malek, a bioethicist at the Brody School of Medicine at East Carolina University, said that people who carry a gene like GSS have a moral duty to use preimplantation diagnosis — if they can afford it — to spare the next generation.

"If there is a paradigm example in which a parent can have an obligation to use this technology, this is it," she said.

But David Wasserman, an ethicist at Yeshiva University and consultant to the department of bioethics at the National Institutes of Health, says there is no obligation to use it for diseases that do not start until adulthood. Eliminating embryos with such genes is essentially saying someone like Ms. Kalinsky should never have been born, he said.
I should say here and now that technologies such as PGD concern me for a host of ethical reasons, including the fact that we as a culture tend to let ethics follow technology rather than the other way around. PGD provides yet another example of a technology that people are using in the midst of an ongoing debate about the potential personal and social repercussions.

Permalink | Comments (1)


Posted By Alice C. Linsley, Friday, February 07, 2014

Laughter
By Ruth Bancewicz
Photo by Uschi Hering,

http://www.sxc.hu/

What makes you laugh uncontrollably? Sick humour? Children saying funny things? Your own attempts to master a dance move? Some of the most memorable chuckles for me have been caused by typos in emails (either my own or other people's) that resulted in somewhat inappropriate – but thankfully very obviously wrong – meanings.

This week,

Revd Dr Joanna Collicutt

, Karl Jaspers Lecturer in Psychology and Spirituality at Ripon College Cuddesdon, spoke at the Faraday Institute on '

A Merry Heart Doeth Good Like a Medicine: Humour, religion and wellbeing

'.

A number of clinical studies have been carried out on humour and physical wellbeing, and like research on religion and health, the results of these studies vary widely. For religion, the overall trend is towards better health among people who have religious beliefs and practices, but the same is not true for humour. So while people who are sick tend to feel better when they laugh, their symptoms may not be affected.

There are of course many different types of humour, and they all have different effects. The appropriate sort of humour can be a coping mechanism to help in difficult situations. Bad jokes can break friendships, but laughing to build bonds among colleagues or friends is healthy – building self esteem and protecting against depression. Humour that keeps your friends laughing and you feeling good about yourself can be very healthy, but it can also be a way of ignoring problems. Some people manage to use self-deprecating humour in a positive way, but others are self-defeating.

In the past, humour was seen as a vice, possibly because it can often be subversive, but now it is generally seen as a character strength. Humour helps us to handle incongruous situations and make sense of things, recognise our own stupidity without condemning ourselves, or let off steam. Humour can, on the other hand, be used to devalue things or people, or exert superiority. Wit is generally thought to be the most clever sort of humour, but can also be the most damaging. For example, in Jane Austen's novel Emma the heroine has to learn to control her wit and not hurt people with it.

Surprisingly (to me), laughter is more often mentioned negatively than positively in the Bible. Cynical humour is connected to ignoring, disbelieving or disobeying God. But does the fact that Jesus and others are not mentioned laughing mean they didn't enjoy a joke? The Bible only records those events that were most important for the reader to learn from (so it doesn't mention dinosaurs at all, and there are very few mentions of breakfast, toilets and shoes). My experiences of the Middle East have been full of smiles and laughter, and I expect the disciples' gatherings were the same.

Humour involves a lack of inhibition, which can be a very good thing if our inhibitions are stopping us receiving from God. Prophets often have a subversive message, which can be particularly important at the renewal phase of religions. If humour helps us to disengage from unhelpful dogma and be open to a new realisation of what is most true and important, we should welcome that. Finally, absurdity can get a point home – and Jesus did use this sort of illustration in his teaching (e.g.

The camel and the needle

).

So we laugh because we realise things are true. We laugh in surprise when people challenge received wisdom. We laugh because the supposedly serious is made absurd. We laugh because if we didn't we'd cry – when we are coping with adversity. And most important of all we laugh in delight, enjoying the present moment. I didn't expect to laugh so much in a seminar, but it seems that humour is an important part of both faith and academia.







Permalink | Comments (0)